This document assumes a familiarity with how to set up and use Photoshop's color management. If you are in doubt, please read either the brief tutorial on our site or one of the more extensive articles referenced in our list of resources. This also assumes you are using Photoshop version 6 or above. If not, get a new version. The price of a Photoshop upgrade is definitely worth the money for the time savings alone. If you use an image editing program other than Photoshop, make sure it supports converting image files to a printer profile. The basic flow is, however, approximately the same.
If you are looking for custom ICC profiles for your printer and instructions on how to use them, please refer to our custom profiling section.
Important note #1:

All profiles assume an accurately

calibrated and profiled monitor

. The goal of printer profiles is to match your prints to your monitor. If the condition of your monitor is not known accurately, there is nothing to match the prints

to

. The viewing condition for the prints is also critical. Unless otherwise noted, our profiles are built for print viewing under industry standard D50 (~5000°K) illumination.

Important note #2:

Our

digital lab profiles

are created specifically for each individual printer. These are

not

generic profiles, nor should they be treated as such. Each printer and paper combination behaves differently. Using highly optimized profiles on a printer other than the one they were made for can result in worse performance than using no profile at all.
---
After downloading the profile, you need to save it in a location that depends on what operating system you are using. The profile files work equally well on Windows or Mac computers. Save the profile to a handy location. You need to install profiles before using them. Note that the profiles are binary files – they do not contain readily readable information and can not be opened directly by most applications. Image editing applications such as Photoshop and color printer drivers are equipped to use them.
These locations are:
Mac OS X (all versions): If your account has administrative privileges, storing profiles in /Library/ColorSync/Profiles allows all users to use them. An alternative area, for users without Admin privileges, is /Users/<username>/Library/ColorSync/Profiles — any profiles stored here are available only to the current user. The ColorSync Utility gives access to the details of individual profiles, shows gamut plots, can rename profiles, and validates profile structure among other useful tasks.

OSX 10.7 (Lion) and above: The user profile folder is hidden by default. Storing profiles in this folder is possible, but requires following the steps described here.
OSX 10.9 (Mavericks) and above: Depending on the printer profile, individual system configuration, and perhaps the phase of the moon, Adobe products (e.g. Photoshop, Lightroom - and particularly the Creative Cloud or CS6 versions) sometimes refuse to recognize profiles installed outside an Adobe-specific location. If a printer profile installed to either the system or per-user folder does not show up from within an Adobe product, move the profile to /Library/Application Support/Adobe/Color/Profiles/Recommended. A reboot may be required for the profile to be visible from within the Adobe application.

Windows (all versions): \Windows\system32\spool\drivers\color

The easiest way to install a profile in Windows Windows is to right click on the profile in Windows Explorer and select "install profile". Windows copies the profile to the correct directory automatically.
Important note: If you are replacing a profile in Windows, the above shortcut does not work. The profiles must be manually copied to the correct directory for the original profile to be replaced. Microsoft has listed this as a bug since Windows 98.
Windows 7 and Vista have a Control Panel applet that allows selecting default profiles for devices and manually installing profiles that are not already in the system profile directory. The functionality is limited, and a right-click automatic install or manually copying the profile to the system profile directory is much easier.
---
Other applications supporting conversion to printer profiles:
Notable applications that do not support converting images to RGB printer ICC profiles:
Photoshop Elements (through version 7). Only allows conversion between sRGB and Adobe RGB. RGB printer profiles can only be used with printers connected directly to your computer. Images can not be converted to printer profile and saved for printing on other machines or photo lab printers.
Corel Paint Shop Pro Photo (through version XI). As with Photoshop Elements, RGB printer profiles can only be used when printing to a directly attached device.
Corel Photo-Paint (through version X3)
---
Example color managed editing and printing workflow
The following work flow is a guide to using our profiles and getting the best quality prints. It contains additional information specifically for Fuji Frontier, Noritsu, and Agfa digital printers, as these are the ones most commonly found in labs. A more comprehensive version that applies to any printer and covers Photoshop Color Management is in our tutorial series.
Edit the image until you are happy and save the file. Do all your editing in a standard color space such as Adobe RGB or sRGB, not a printer profile. Editing color spaces are designed for editing. Printer color spaces are not. At this point you have an image that can be printed on any printer.
Make a duplicate of the image. This allows you to keep the original as a printer-independent version, which can then be formatted for any other output medium.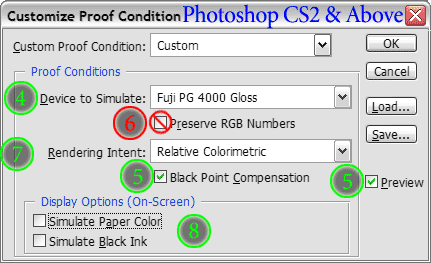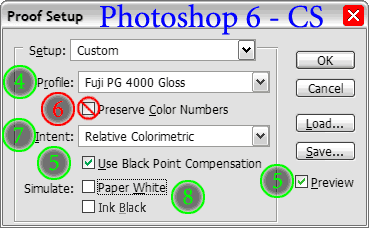 ---
Print Cropping/Suggested Fuji Frontier and Noritsu QSS print sizes
Notes:
Most labs have their printers set up to increase the size of each image by 1-2%. This expands the image beyond the borders of the paper. The reason is to prevent a white strip from being printed along one or more edges if the paper is not perfectly aligned within the feed path.
The default cropping is set to compensate for worst case paper alignment. Most labs have printers that are more carefully adjusted than this. The default level of cropping therefore needlessly chops the edges off prints.
Cropping can be minimized by adding a thin border around the edges of each image (increasing the canvas size). When printed, the borders are cropped off, preserving more of your original images
The table below lists recommended dimensions for common print sizes to minimize normal cropping. These values are approximate. Each printer crops slightly differently, and exact cropping changes by a pixel or two each time the paper is changed.
Some Frontier labs will print using the "No Resize" option. If yours will, keep your files at the nominal size instead of expanding the canvas.
Be careful about increasing the canvas size too much. If you do, a thin, annoying white line will appear along one or more edges of your prints. It is usually better to have the machine crop slightly too much than too little. Otherwise, you are in for a long session with your Rotatrim.
For Noritsu printers the correct aspect ratio must also be used. There is also more variability in cropping from machine to machine than with Fuji Frontiers.
If your digital camera captures in the 4:3 (four thirds) format, make sure your lab supports these sizes. Many do not. If not, expand the image canvas to make the aspect ratio a supported size. Otherwise, the printer will perform severe cropping to the prints.
Usage:
For Fuji Frontier printers, begin by setting your image to be an exact Frontier print size at 300 ppi. Example: for a 4x6 inch print, your image should be (4*300) by (6*300) = 1200x1800 pixels. Similarly, an 8x10 should be 2400x3000 pixels.
Use 400 ppi for Noritsu MLVA and Kodak DLS printers (Model number 2xxx) as well as Agfa d-Lab machines. For example, a 4x6 print on a Noritsu 2901 should be (4*400) by (6*400) = 1600x2400 pixels.
Noritsu Laser printers (Models 3xxx) are problematic. Model 3411/34-Pro printers, model 37xx, newer model 3111 machines, and ones with upgraded software usually print at 300 ppi. Older machines print at 320 ppi. There is no way to tell which resolution the machine runs at without making a print, nor does there appear to be any consistency as to which machines run at 300 ppi and which ones use 320. If the lab can not tell you what resolution their printer uses, the safest course is to use the 300 ppi values in the table below for your first print order. Check the print sizing status string. If it says Z106.7/100 (or something close to 106.7), the printer is set to 320 ppi resolution.
Next, increase the Canvas Size in Photoshop (Image→Canvas Size) to the appropriate number of pixels based on the table below. Important: Do not increase the actual image size (Image→Image Size), as this produces the exact opposite effect from what we want.
Ask the lab to print using "Fill In" mode for Fuji Frontier printers, or "CUT" mode with Noritsu machines.
Fuji Frontier print cropping setup
Use "Fill In" print mode

Noritsu print cropping setup
Use "CUT" print mode

Paper Size (in)

Paper Size (mm)

Frontier Canvas Size (px)

Noritsu Print Size (in)

Noritsu 2xxx Canvas Size (px)

Noritsu 37xx, 34xx, and 3xxx Canvas Size (px) (300 ppi)

Older Noritsu 3xxx Canvas Size (px) (320 ppi)

4
102
1228
4x6
1630x2446
1228x1842
1310x1964
5
127
1524
5x7
2026x2836
1535x2149
1626x2276
6
152
1818
6x9
2430x3646
1818x2727
1940x2910
7
178
2138
8x10
3220x4026
2416x3020
2580x3226
8
203
2434
8x12
3220x4830
2416x3624
2580x3870
10
254
3036
11x14
4436x5646
3322x4228
3556x4526
12
305
3638
12x18
4836x7254
3624x5436
3876x5814
15
381
4536
12x24
n/a
3624x7248
n/a
18
457
5440
12x36
n/a
3624x10872
n/a
Printer Type
Max. Paper Size (in)

Fuji Frontier Models

Frontier 330, 340, 390, 500
8x12
Frontier 355, 370, 375
10x15
Frontier 550, 570, 590
12x18
Frontier 710
8x24 or 8x36
Noritsu QSS Models
2901, 30xx, 3101, 3111
12x18
3411, 34-Pro, 37xx
12x36

Agfa Digital Models

d-Lab.1, 2, 3
12x18
Netlab.1
8x12
Netlab.2
12x18